'Double Dipping' Is a Perfectly Acceptable Income Strategy
Wednesday, October 07, 2020
"Double dipping" is frowned upon at dinner parties.
But as an investor, there's absolutely NOTHING wrong with financial "double dipping." In terms of investing, it's a great way to generate multiple streams of income from the same stock or ETF.
In fact, it's one of my favorite "Safe Money" strategies in today's low-rate world!
Federal Reserve speakers have made it abundantly clear in recent weeks that they have no plan to raise interest rates anytime soon. Likely not for a good, long time.
Chicago Fed President Charles Evans just said that policymakers need to "have an 'in it to win it' attitude toward our inflation objective." Translation: Rates need to be pegged to near zero for ages, even if the economy picks up.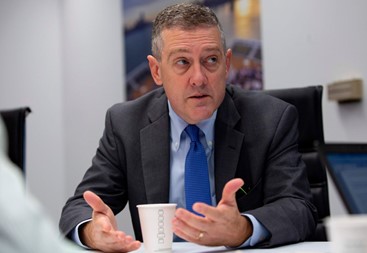 St. Louis Fed President James Bullard Source: Wall Street Journal
St. Louis Fed President James Bullard underscored that message in a Wall Street Journal interview. He said, "I really don't think we have to do anything differently now or going into next year" and that the Fed "will just keep with its current policy" regardless of whether economic conditions get better.
That makes for a fertile environment for harvesting income from stocks that spin off juicy income via dividends. It's a core strategy in my Safe Money Report, and I'm happy to report that many of my recommendations are hitting paydirt for subscribers.
But if you want to generate even more, you can go a step further and invest in what I like to call "weekend windfalls."
This involves selling options against high-quality stocks you already own … or even on stocks that you wouldn't mind owning for a lower price.
Doing so generates extra income you can use for whatever you want. Those payouts can end up being equivalent to pretty hefty annualized yields — yields that put alternatives like savings accounts or bond fund yields to shame.
There are some risks involved, just like with any investing strategy. But in an environment where bottom-of-the-barrel interest rates are likely to be with us for a long, LONG time, "double dipping" to generate income from both dividend AND options payouts can make a ton of sense.
If you're interested in learning more, your first step should be to click here to take a brief survey to reserve your FREE seat for my upcoming summit "America at a Crossroads: Instant Income" this coming Tuesday, Oct. 13 at 2 p.m. Eastern.
I'll show viewers how anybody can bring in "instant payouts" of at least $1,000 every week no matter what's going on in the markets.
This is something you absolutely don't want to miss.
And remember: As long as you stick to double dipping in your brokerage account, rather than at a neighborhood barbecue, you won't go wrong!
Until next time,
Mike Larson