Big Data, Big Brother, Big Money
Friday, June 11, 2021
It's said that "knowledge is power."
That's truer today than ever because the world — you and me, too — are generating mountains of information every single day.
The invention of Wi-Fi, the proliferation of smartphones, the flow of streaming video and the advent of social media have combined to generate a nearly unfathomable amount of data each day.
In 2020, every human on the planet created an average of 1.7 megabytes of data every single day.
Consider:
• Alphabet Inc. (Nasdaq: GOOGL)'s Google processes 3.5 billion searches every day.

• Twitter, Inc. (NYSE: TWTR) handles 500 million tweets a day.

• Facebook, Inc. (Nasdaq: FB)'s biggest platforms have attention-hungry people posting 350 million photos each day.
And it certainly doesn't stop there.
Big data comes from a myriad of different sources, such as business transaction systems, customer databases, medical records, internet clickstream logs, mobile applications, social networks and scientific research repositories.
That data isn't discarded. It's collected by businesses and governmental agencies and is used for predictive modeling and other advanced analytics applications.
Businesses are getting very savvy about using customer data to sell us more goods and services. Starbucks Corp. (Nasdaq: SBUX) and Netflix, Inc. (Nasdaq: NFLX) are perfect examples.
Starbucks: From a Coffee Shop to a Data Tech Company
Starbucks does much more than just sell millions of cups of coffee every day. It also collects data on the 100 million transactions that it processes each week.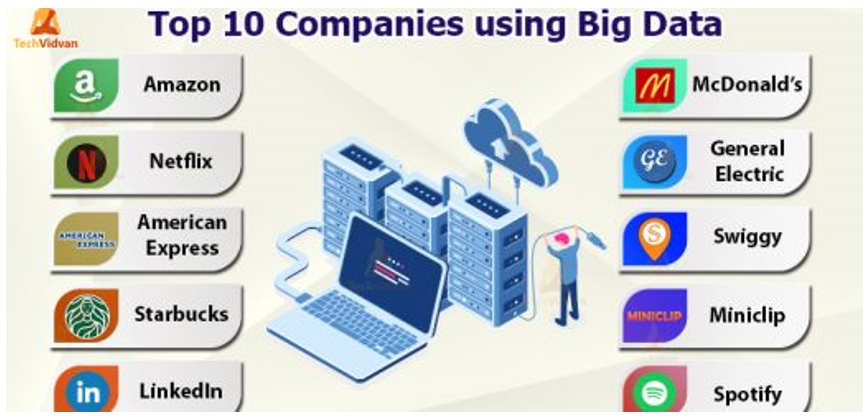 Source: Techvidvan.com
Starbucks' not-so-secret weapon is its mobile order/payment app, which holds your electronic wallet balances.
Instead of fumbling for cash or swiping a credit card, you can pay with your smartphone.
Even better, you can use the Starbucks app to place an order and have your customized drink waiting for you at the counter.
The Starbucks app also includes a loyalty program that allows you to accumulate points for free stuff. It does this by sending personalized promotion offers.
Frequency of visits and average ticket size are key metrics for any retailer. The Starbucks app tracks those by customerand offers highly tailored individualized incentives.
For example, Starbucks sent me this message: "Buy these three products in the next week and get 100 Bonus Stars."
Two of the three drinks are always something I've bought in the past, and the third is something I've never bought before.
Starbucks tracks my purchase history and uses that information to entice me into their stores and make me spend even more money.
How Netflix Uses Big Data To Trounce Hollywood
The typical American thinks Netflix's success is because of its online streaming platform.
True, Netflix truly disrupted the home entertainment industry. But what's separated it from Hulu, HBO Max, Sling, AppleTV and others is its innovative use of big data to deliver exactly what we want.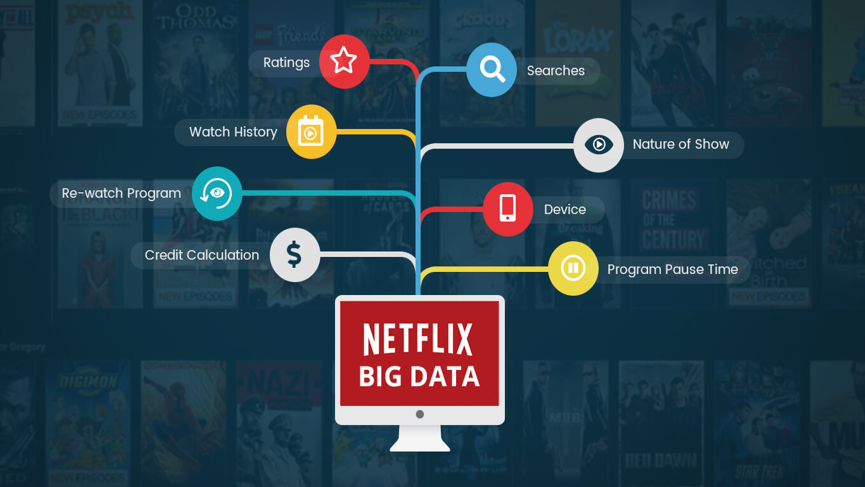 Source: muvi.com
In 2017, a whopping 93% of its original-produced TV shows were renewed. Only 35% of cable/network TV shows are renewed after the first season. The secret to Netflix's success is its use of big data.
Netflix uses big data analytics to drive its most important content decisions. Netflix algorithms tell them what directors, what actors and what subject matters we want to watch. Results include ultra-popular hits like "Birdbox," "Orange Is the New Black" and "House of Cards."
"Netflix is commissioning original content because it knows what people want before they do."
— The New York Times
Netflix algorithms showed that subscribers were huge fans of content directed by David Fincher and any shows that starred Kevin Spacey. Based on that data, Netflix outbid everybody else for the rights to "House of Cards."
Moreover, Netflix was so confident that it didn't bother to create a pilot and instead signed a deal for two seasons before the first episode was ever filmed.
Starbucks and Netflix have lots of corporate company when it comes to the use of big data. If you invest in the companies that are turning knowledge into profits, you'll have much better chances of making money.
Amazon.com, Inc. (Nasdaq: AMZN), Alphabet/Google, IBM Corp. (NYSE: IBM), Microsoft Corp. (Nasdaq: MSFT) and Oracle Corp. (NYSE: ORCL) are major big data players. But the best pure plays are companies you may not know.
Some behind-the-scenes big data experts include Splunk Inc. (Nasdaq: SPLK), MongoDB, Inc. (Nasdaq: MDB), Cloudera, Inc. (NYSE: CLDR) and Elastic N.V. (NYSE: ESTC).
Splunk, for example, calls itself the "data-to-everything" platform, and 91 out of the Fortune 100 are customers. Splunk takes a company's data from hundreds, even thousands, of disparate data sources and uses artificial intelligence to turn it into valuable information.
This is a fascinating subject, and we talk about the broad and deep implications of big data in my premium service, Disruptors & Dominators. Click here to learn more about it.
Best,
Tony Sagami